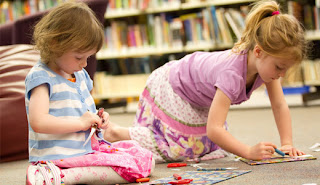 I'm arguing that libraries are more than hubs for digital data: they make psychological, social and physical contributions to a community's well-being. A sample:
Libraries provide locals with a continually refreshed stream of words: picture books, author talks, language kits. They have experts to choose just the right Mem Fox for my daughter and Batman for me. They guide patrons to ancient translations and the newest historical romance vampire fiction. ("I'm looking for something like Heyer crossed with Meyer.") These are the currents in which authors swim.
Which brings us to another virtue. Libraries are also civic sanctuaries for people. The physical spaces are vital. The light and warmth, the reading nooks, the comfortable chairs and neat cubicles - they invite patient, attentive reading and writing. They also attract play and intimacy. As I write, a grandfather is saying "B for 'bird', a yellow bird," to a toddler replying with "burr, burr". I have read to my daughter here countless times, often with other children sitting down and listening, open-eyed.
Libraries, in this, have an educational, but also a psychological and social, role. At their best, they provide equal support for reflective solitude and quiet company. They do what cafes have done for centuries, but they do it gratis, and with books ready to hand.
(Photo: Boroondara News)